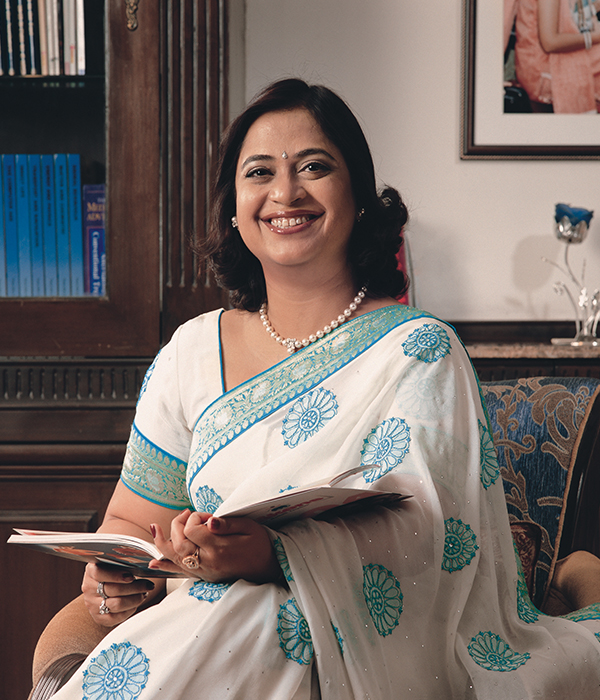 Every success story started with a dream. A dream which was realized because someone had the courage to pursue it. Over 20 years ago, Mrs. Sudha Gupta's rise was paved from a simple family oriented mother to a profound visionary and inspiring Guru. Her unwavering vision, undying passion, countless hours of hard work and support from the Management Team led to the foundation of Mother's Pride and Presidium chain of schools. While the field of Education was shifting gears to meet the needs of the upcoming modern generation, she envisaged contemporary methods of learning with a thrust on personal growth of each learner.

Mrs.Gupta's relentless focus on principles of ethics, values, sound governance and prompt service have contributed in great measure in the establishment of Mother's Pride High School. She strongly believes that how children are raised has a profound effect on the future of humanity, thus, every institution gives birth to future leaders who will add to the knowledge pool of the country with personalised care.

Her work always spoke for itself, thus, making her a recipient of numerous awards and citations over the last two decades on the national and international level such as the Emerging India Award 2007 for 'The Most Promising Enterprise of The Year', organized by CNBC and rated by CRISIL, the 'Golden Peacock' award and 'Outstanding Woman Entrepreneur of the Year 2007-2008' award by FICCI. The latest feather in her cap is the Jury Choice Award at World Education Summit '12 for the Best Teachers' Training Providers.

A great humanitarian, packed with a strong belief in serving society by taking initiatives to bring a change in this world, Mrs. Sudha Gupta initiated NGO's by the name of Sparsh and Shakti to empower underprivileged children with special needs to live a life of dignity and respect. Another subject very close to her heart is that of positive parenting. She propagates that children should be given unconditional love and should be brought up with positive emotions and no school alone can achieve this goal. This determination and passion towards the concept of positive parenting and education also made Mrs.Gupta an avid contributor in the sphere of children's literature as well as parenting. Through her books, publications, T.V. and radio programs, seminars, Mrs.Sudha Gupta has been successful in transforming thousands of families.